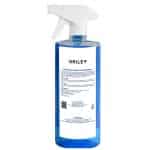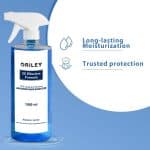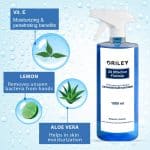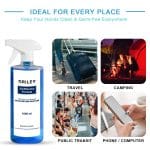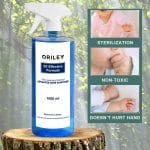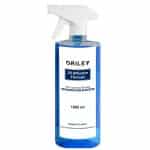 Previous
Next
ORILEY Instant Hand Sanitizer

Rs 445/- only
INSTANT HAND SANITIZER: ORILEY Instant Hand Sanitizer is a 70% Isopropyl Alcohol based palm cleanser that removes germs & bacteria from your hand to keep you safe from all kind of infection-causing possibilities whether you're indoor & outdoor!
FOR ALL PURPOSE & PLACES: Whether you're at home or on the job, the offered alcohol-based instant hand sanitizer can be used anywhere you need it most. Ideal for hospitals, schools, offices, gyms, and other places to sanitize your hands almost instantly.
NON-STICKY & NON-IRRITATING: You don't have to keep water, soap or anything else to disinfect your hand quickly as it does not need any rinsing with water or drying with towels. Moreover, the offered hand sanitizer is free from any ingredient that may irritate your hands.
LONG-LASTING PROTECTION: It will offer you long-lasting protection so you won't have to apply it repeatedly on your hand. Besides, it is a 70% v/v Isopropyl Alcohol based concentrated formula so even a bottle of this hand sanitizer will go a long way for your hand sanitization.
DIRECTION FOR USE: Take out an appropriate amount (2-3ml) of hand sanitizer to moisten your palm and rub for 10-15 seconds front back to front & in-between your fingers until the liquid covers your hands & dries. Do not wash with water.
Special offers and product promotions
Buy now & pay next month at 0% interest or pay in EMIs with Amazon Pay Later. Instant credit upto ₹20,000.
Get FLAT 5% BACK with Amazon Pay ICICI Bank Credit card for Prime members. Flat 3% BACK for non-Prime members. No minimum order value. No upper limit on cashback.
Avail EMI on Debit Cards. Get credit up to ₹1,00,000.
Get GST invoice and save up to 28% on business purchases.
Get ₹50 cashback, pay with Amazon Pay UPI. Valid on minimum order of ₹250. Valid once per customer.
Product description
Oriley70% Isopropyl Alcohol-based Instant Hand Sanitizer, 1000 ml Let's face it – where there are people, there are germs. In this special time, OrileyWaterless Hand Sanitizer becomes hard on germs, gentle on hands. Use this instant hand Sanitizer throughout the day to have ultimate protection against the spread of germs. It's your personal germ-killing companion on the job or at the home. Oriley is on a mission to help prevent the spread of germs whether it's the classroom, office, or home, our fast-acting instant hand sanitizer come in forms to fit your every need. Why Isopropyl Alcohol-based Hand Sanitizer? REMOVES GERMS NON-IRRITATING FORMULA LONG-LASTING MOISTURIZATION INGREDIENTS: Isopropyl Alcohol 70%, Water, Glycerin, Aloevera, Vitamin E, Phenoxyethanol and Lemon Essential Oil. APPLICATION: Use it at your office, home, in your car, school or anywhere else you need to quickly clean your hands. DIRECTION FOR USE: Take an appropriate amount (2-3 ml) to moisten your hands and rub for 15 seconds until the liquid covers your hands & dries. Do not wash with water.