Signup with Akshayakalpa referral code Ga1s990371363 and complete your first deposit of ₹500 or above to receive ₹250 credits.
Akshayakalpa is trusted by thousands of homes in south India and the best thing is that they have their own app for milk and organic products for delivery.
Akshayakalpa Referral Code
Join with the referral code of Akshayakalpa Ga1s990371363 and unlock an exclusive bonus upon your first deposit. Read everything about the app and the referral program in this post.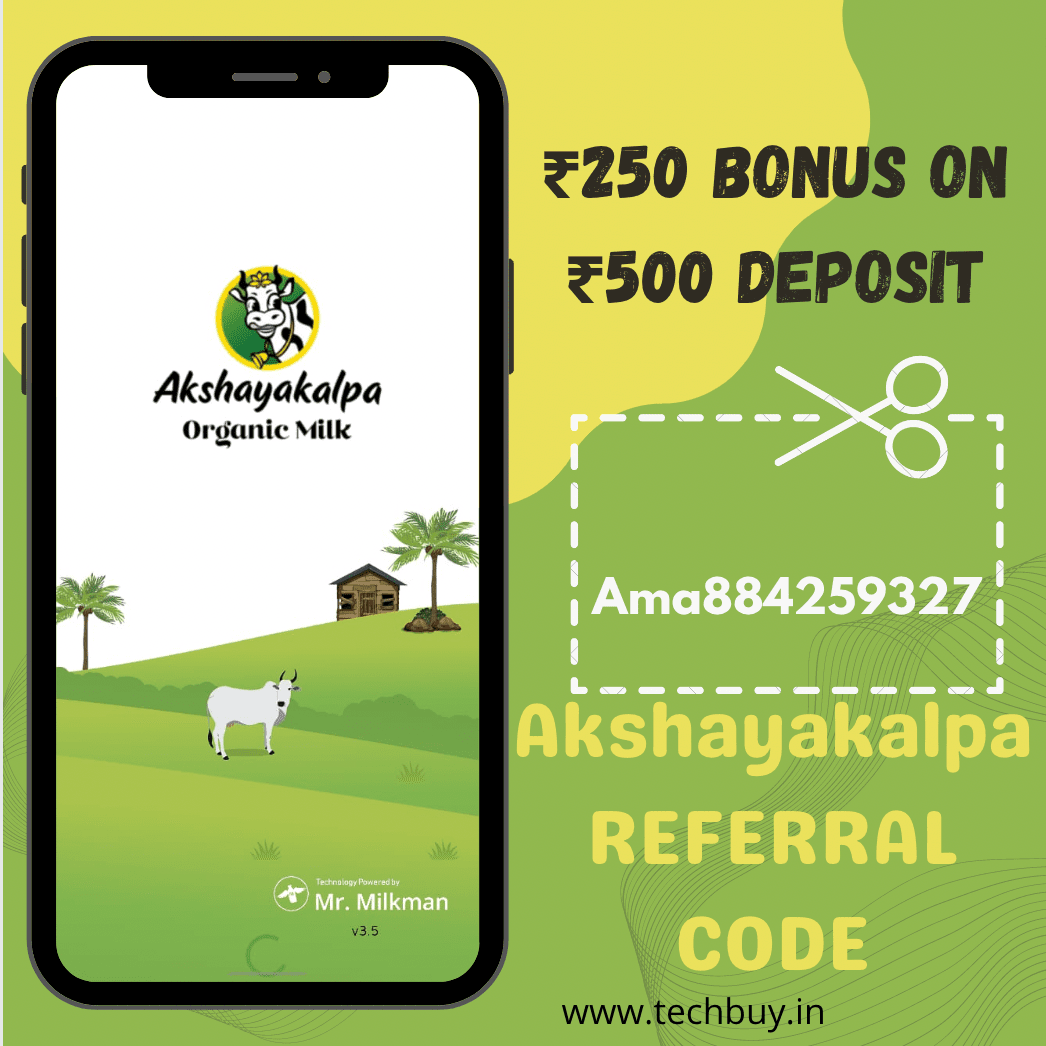 | | |
| --- | --- |
| App | Codes |
| 🥛 Akshayakalpa referral code | Ga1s990371363 |
| 🛍 Coupon Eligibility | New users who complete a deposit above ₹500 |
| 💰 Referral benefits | ₹250 bonus credits |
| 🗓️ Expires on | 31-12-2025 |
| 🗄 App | Akshayakalpa |
| 🥚 Platforms | Android, iOS, Web |
| 🇮🇳 Cities served | Bangalore, Chennai, Hyderabad |
| ⚖️ Parent company | Akshayakalpa Farms And Foods Pvt. Ltd. |
| 👨 Founders | Dr G.N.S. Reddy, Shashi Kumar |
Overview of the Akshayakalpa app
Tired of searching for the best milk delivery apps? How about an app that delivers from their own farm? Better than most of the B2C dairy delivery startups right? Akshayakalpa owns huge farmlands throughout south India and they offer much more than dairy products. Some of their other offerings are staying, camping in tents, family outings, bullock cart rides, activities, and organic food.
The video below will illustrate how well are the cows fed and taken care of at their farms. Also, these cows are free roaming and happy in their life unlike those that are just raised indoors solely for milk.
The farm tour above might take you to the '90s, that's what we need in terms of the quality of food, especially milk. Most of the brands that serve milk are highly adulterated and highly processed to make milk thick. Akshayakalpa believes in delivering high-quality, raw, and original milk from A2 cows and is one of the most trusted and expensive milk brands in Karnataka.
Why Akshayakalpa when we have Zepto?
We already have many apps like Swiggy, FTH daily, milk basket, Zepto, and Country delight that delivers milk, but reliability in terms of service and quality is an important factor that cannot be compromised. FTH daily and Zepto deliver the Akshayakalpa milk and if you are unsatisfied with their service like me, then you need a more reliable app to order milk. That's where the Akshayakalpa app can help you in not just ordering milk, but other dairy products, eggs, fruits, coconut products, and some of their merchandise products too. All of them are organic and poor is the unique selling point of this app.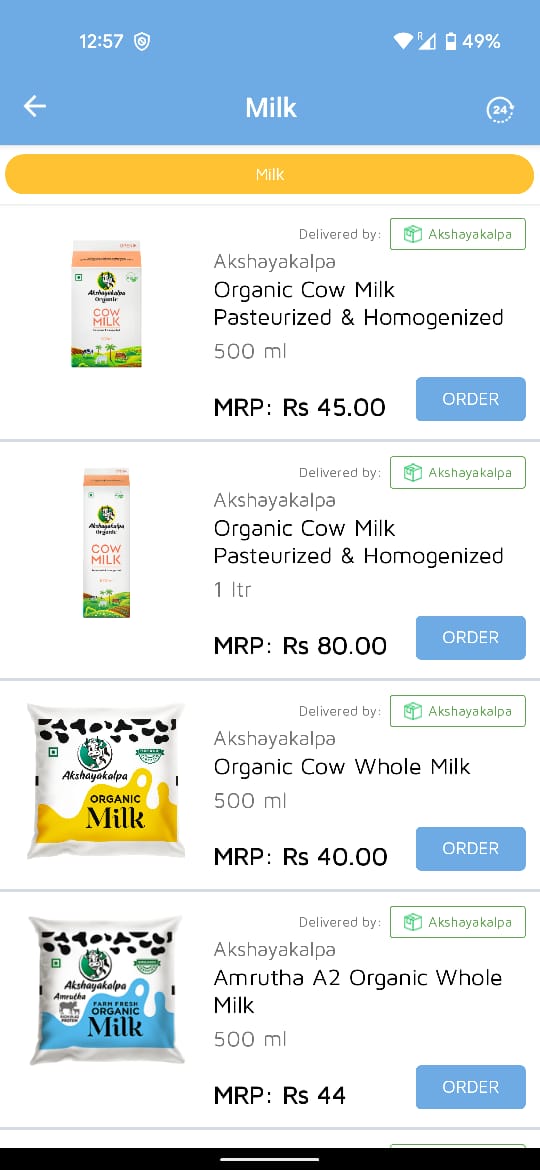 They have a wide variety of milk and if you are following a vegan diet, they also offer lactose-free milk.
How to signup to Akshayakalpa with referral code
If you are new and want to try the products, you can request a free sample from the Akshayakalpa website or app. Also, if you use Ama889243061 as the Akshayakalpa referral code, you will receive an extra ₹250 bonus on your first recharge of ₹500 or above. Follow the steps below to unlock your bonus and credits
Download the Akshayakalpa app from the Playstore or Appstore and install it on your phone or you can also visit their website to signup as a new user.
Enter your mobile number and verify it with OTP and then a lengthy form will ask for your details such as an address, location, email, and Akshayakalpa referral code.
Complete entering all the above inputs and then on the Akshayakalpa referral code enter the coupon Ama889243061 and click the complete signup button.
Now you will see a screen that shows all the products offered by the Akshayakalpa app and you can top up your account to buy any of those.
Goto your wallet tab and then top up your account with ₹500 or above to unlock your free credits of ₹250. Now you will have a total of ₹750 in your wallet that you can use to order any of their products.
Akshayakalpa Referral program
The referrer gets the same benefits as the referee in the Akshayakalpa app or website. You can generate your own referral code and earn a ₹250 bonus for every friend who earns a new user bonus. Isn't it a very rewarding refer-and-earn program? Yes, but please be noted that you will only receive referral credits for orders placed at different addresses than yours. Please be mindful that you don't place orders to your own address for the sake of earning a bonus. Refer to the image below for a better understanding of the referral program and its policies.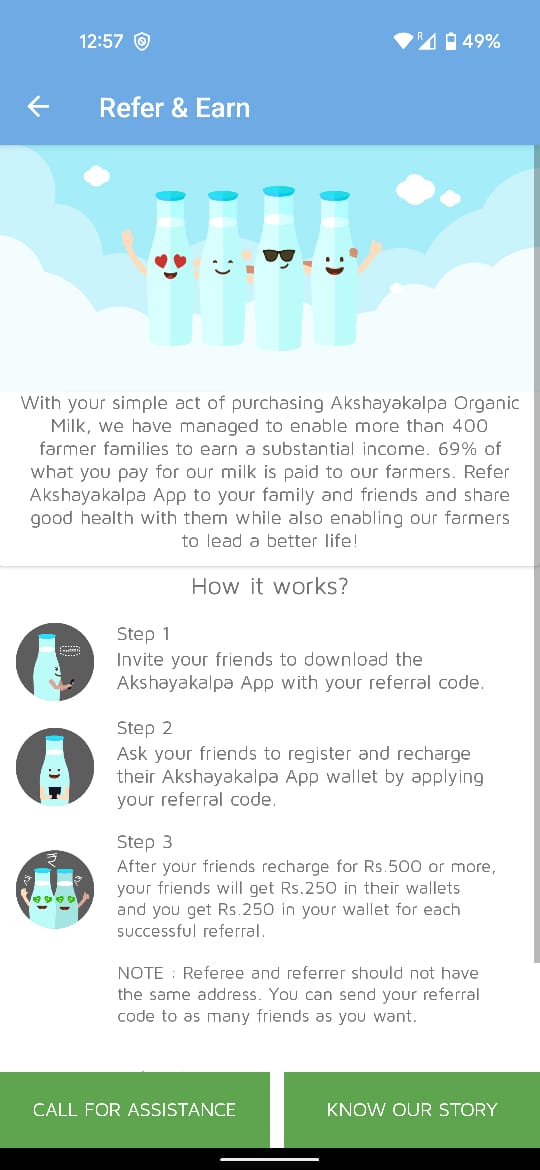 You can generate your Akshayakalpa referral code from the app and share it with your friends and colleagues to earn free credits once they complete their deposit.
Reviews of the Akshayakalpa app
The app experience is below average even though I love your service and the products that you deliver. The quality is just amazing, but the process of ordering something is cumbersome. Please scale your app to improve the UI and UX and speed of scrolling on the app. The app crashes too often when I try to add something to the cart.
-Akshat
The service and delivery are prompt and very responsible. I would highly appreciate it if you can increase the cut-off time for delivery to late at night because most people will be busy during the peak hours.
-Lakshmi
I personally love this project since I have visited their farm in Bangalore, you can also schedule a visit from their website. They serve milk from A2 cows and their cows are free to roam on their huge farms. Very good experience in activities taken from them.
— Cherry