 5/5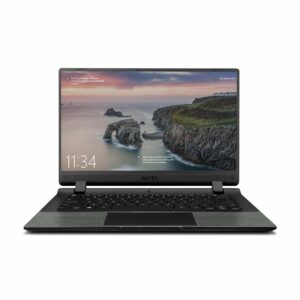 Buy it now for massive discount

In-depth review and research by Sandeep Reddy

Reviewed in India on 28 October 2020.
I am a laptop user since 2005…I purchased the laptop from Amazon at 3 am on 27 Oct 2020 and received it at 9 am on 28 Oct 2020.. this is reviewed after 24 hours of usage .. it is neither a paid review nor I work for avita.. maybe a fan-boy at best. any mistakes are inadvertent and not deliberate.. the purpose of this review is for information and is educational
1. Beware of windows in S mode.. read online regarding limitations.
2. In S mode..apps are limited to only windows store
3. Printer and scanner driver inbuilt and lot more new generation printers are supported in S mode
4. Exiting S mode is not reversible.. not to be a big concern for the majority of folks
5. MS account is a must
6. Office 365 is trial..but good malware-free apps available in the Windows store for most tasks
7. No heating issue..no throttling..no fan noise
8. Received in 30 hours..3 am order placed
9. Quad layer safe packing box by Amazon
10. Unique plastic texture.. plastic isn't great.. slightly delicate build
11. Amazon listing is wrong regarding Aluminium to build n backlight keyboard..maybe typography error
12. Not much literature online nor very good technical call center..barely manageable
13. Customer service by Appario retail at Bangalore
14. Carry-in Service by Jeeves near silk board in Bangalore
15. Imported by Appario retail Delhi, September 2020
16. 2 yrs warranty for defects is confirmed
Avita essential

17. Awesome display.. slight bleed in the lower-left corner but barely noticeable..no dead pixels.. almost bezel-less screen
18. Plays 4k YouTube.. depends on WiFi speed..mine was 23 Mbps
19. Unable to play HDR YouTube..panel supports HDR mode
20. Camera is okay quality but not in an ideal position,speaker is loud enough. Dolby works
21. I don't play games
22. Amazon prime app is lagging heavily and video download is broken. I suspect software compatibility issues
23. Multiple tabs open in the browser n multiple apps runs simultaneously
24. Laptop sleeve isn't useful for regular use
25. the keyboard is just ok. big gap for dust ingress..80% area clicky touchpad
26. 128gb SD card is working..read at 27 MBs ..write at 19 MBs
27. Battery about 5 hours at max settings
28. 24W charger.. about 5000 mah battery
29. 13500 in credit card offers..it is a steal and 5 stars
30. charging Jack isn't secure.
Avita essential

About The Company – AVITA

Avita is a sub-brand registered in the US, based on lifestyle products ranges from PC, smart homes, and IoT devices. Created by a former R&D and branding team of Radio Corporation of America (RCA) in the United States in 2016,
The Company owning the Avita sub-brand is called Nexstgo, HQ in Hong Kong. Mr. Alex Chung, Chief Executive Officer of Nexstgo Company Ltd.Seema Bhatnagar, Country Manager, Nexstgo India,
And its product is manufactured by Alco Electronics Ltd. which is based in Hong Kong,Mr. Wilson Leung, CEO, Alco Holdings Limited.
The Chip, Motherboard are imported from Taiwan.
The Casing and the Screen and the Battery are assembled in China.
Avita products are sold in countries like the USA, Hong Kong, Singapore, Taiwan, Thailand, Indonesia, The Philippines , India, and Malaysia as of 2020

Avita essential
 5/5
Good for the Price..
Raj Kumar
Reviewed in India on 26 October 2020
Avita essential
1. the First impression is good.
Does the job for the Price. Don't expect much from this by spending 13.5 k money.
Expecting gaming and editing etc. from this low-priced entry-level machine is a foolish thing. Expect, up to what u spent on the product. (only disappointing factor who disappointed by their purchase)
2. MS office is trial version only lasts for one week after setting it up.
3. But, I don't know the reliability of this machine.
4.I think it can be used for an adequate period if we handle it smoothly and carefully.
5. Best under budget laptop with good built quality, sound, and display
6. A good replacement for a tablet. Used for online classes for kids and documentation works and entertainment purposes…
 5/5
100% Value for money.
Reviewed in India on 26 October 2020
This laptop is designed for following basic task-
1-Office work(MS word, excel, PowerPoint etc)
2- Basic net surfing (Fb, Youtube, Online form filling etc)
3-Watching movie
4- Good battery
Believe me this laptop handles all above mentioned tasks like a boss in a speedy way. All of this due to 128GB m.2 ssd installed in it.
Pros-
1- IPS Display 9/10
2- SSD 9/10
3- 4-5hr battery backup 7/10
4- Design 8/10
5- Build quality 7/10
Cons-
1- 3.5hr of Charging time
2- Charger Quality
3- Mouse trackpad is a bit unresponsive.
Verdict- This laptop @13.5-15k price is 100% value for money.
Although this laptop equipped with celeron processor but believe me it does what it is meant for. You can't expect a scooter to carry the loads of a Truck. Same goes here. This laptop is made for basic tasks and it does flawlessly. Hence it is a perfect budget choice for students, online classes, office works etc.
If you are in Gaming & video editing work..then please don't buy this laptop. This laptop is not made for such tasks.
Thanks.
Avita Essential
 5/5
Worth The Money
Reviewed in India on 26 October 2020
i just gotta fan of the display. Display is just awesome. Looking is too good , light wieght.
Not for high processes. Very good for productive use. Like browsing , entertainment and basic applications will run smooth. SSD inbuilt, too responsible. More than i expected.
Only thing is speakers are too bad, and little build quality is compromised. Rest, Worth more than money.
Avita essential