Use the Bigspoon referral code vdktgoz8nf and enjoy a flat 50% off on your first order from the app.
What is BigSpoon?
BigSpoon is the latest cloud kitchen in the city and recently they raised 100 Cr funding to expand their business to different cities in India. They have plans to use this funding to expand to 75 new cities across India by adding new kitchens as well as investing in technology and product.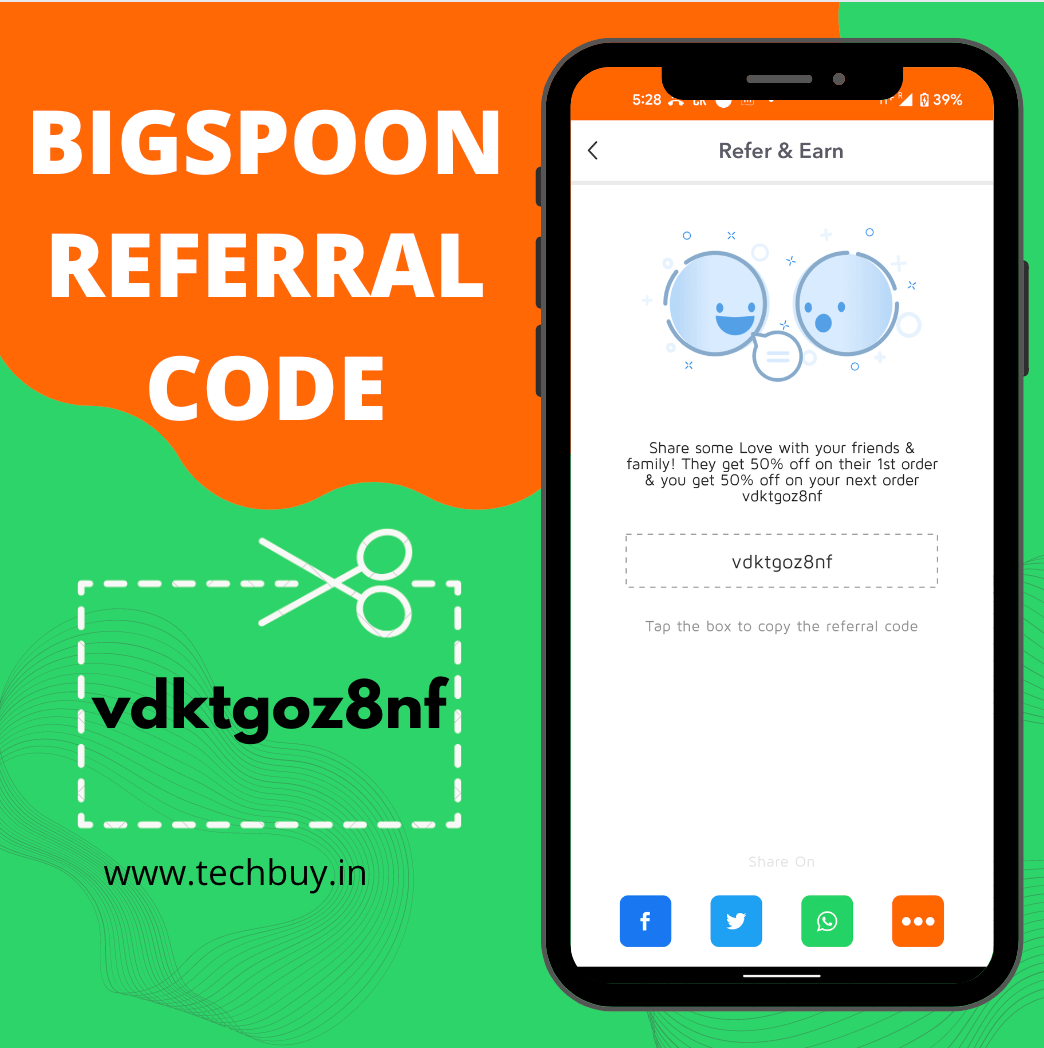 If you check the android application of Bigspoon, you can understand it's not great in UI or the ordering experience. But give it some time, and you will see some stunning fluid UI and UX on android and iOS.
BigSpoon Referral Code
Use the latest referral code vdktgoz8nf which gives 50% OFF on your Bigspoon order on the app. All other working Bigspoon promo codes will be updated on this page soon, make sure to check back for the latest promos.
| | |
| --- | --- |
| App | Coupon |
| 🍔 BigSpoon referral code | vdktgoz8nf |
| 🏷️ Coupon Eligibility | New users discount |
| 🔖 Referral income | 50% OFF for new users |
| 🗓 Expires on | 31-12-2023 |
| 📲 App | BigSpoon |
| 🤝🏻 Platforms | Android, iOS |
| 🇮🇳 Cities served | Tier 2 cities of India |
| 👨🏻‍🦳 Parent company | BigSpoon Foods Pvt Ltd |
| ®️ Referral bonus benefits | Get a 50% OFF coupon on every referral |
Why BigSpoon when we already have many cloud kitchens?
BigSpoon was founded in 2019 and was bootstrapped in operations for the last 3 years with the existing app. We all know the cloud kitchen market is saturated with Rebel foods, Box8, EatClub and Freshmenu and now the obvious question is why we need another cloud kitchen when all of them are competing with each other to become profitable soon.  The simple answer is that Bigspoon is targeting tier 2 and tier 3 cities in India, unlike the big players who are struggling in the tier 1 cities of India.
If they were able to serve 3 million customers in the last 3 years with the existing app, chances of success for them are very high now since they have funds to improve the products and expand kitchens.
How to signup for the Bigspoon app?
Search for Bigspoon on the Playstore and find the app to install it to your mobile. If you are an iOS user, you can search for it on AppStore.
Click on signup as a new user and enter your mobile number or email id to verify with OTP and then enter your name, password and email id to complete your registration.
This is the signup page as of August 2022 and the app is expected to go through a major revamp in terms of UI and UX, so probably you might be seeing a very simple and more user-friendly signup page at a later point.
Now to apply the Bigspoon referral code, you have added the items to your cart and proceed to the payment page where you will be asked for a promo code or a referral code.
Enter the referral code vdktgoz8nf and get an instant 50% discount on your order and if you have any coins then apply that as well.
Applying bigspoon promo codes and coupons can also give you some discount, every month we will be updating the latest promo here on this page.
BigSpoon Referral Program in a nutshell
Refer a friend is the most cost-effective marketing strategy that is being followed by food delivery apps these days and Bigspoon also has a delightful refer and earn program. You can earn a 50% off coupon for every new friend that places an order with your Bigspoon referral code and your friend also earn the same coupon and it's a win-win for both.
The problem that Bigspoon is trying to address is bringing a fine dining experience to the home of tier 2 cities. The four pillars of commitment of the app are Economy, Health, Taste, and Hygiene. The co-founders of Bigspoon have experience working with GoJek, Bounce, and ITC Hotels group and that can further help them build the product much better than it is today.
Brands owned by BigSpoon
Multiple in-house brands under a single app are the whole idea that these cloud kitchens are operating these days. Let's see all the different brands from Bigspoon as of August 2022. They also have plans to add more brands along with the kitchens soon.
Makhni- They plan to deliver authentic north Indian dishes through this brand.
OVEN & GRILL-  This wing serves the western cuisines that compete with the fast food chains.
meals101 –  Quick meals that come with elegant packaging and can be consumed from anywhere very conveniently. This would probably compete with the Eatclub that serves desi meals.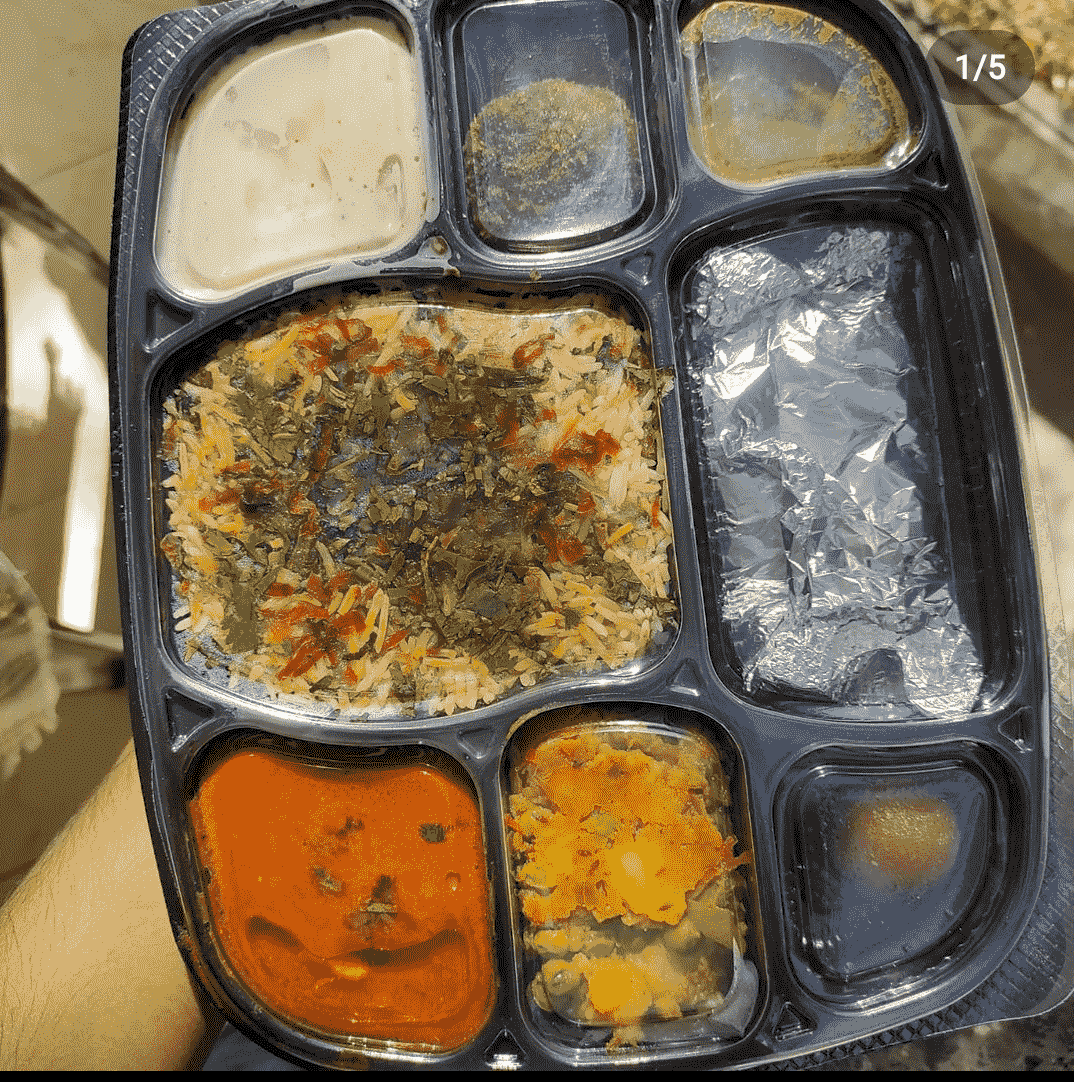 Thali Central – Indian thalis are made to have a wholesome meal experience from veg and non-veg cuisines and are best for office and college students.
Wrap Co- As the name suggests, it is supposed to serve some wraps and rolls. Even I'm tired of the wraps from Faasos and we all need a change to some healthy whole wheat and green tortilla-wrapped rolls. Let's hope this brand will serve some tasty and healthy wraps.
Monkey Fries – This brand is for serving some quick food like fries and salads and is aimed at people with tight-packed schedules.
East Pizza Co – Nothing is complete without an in-house pizza brand, and yes all the cloud kitchen brands do have a pizza brand so it's mandatory to have one.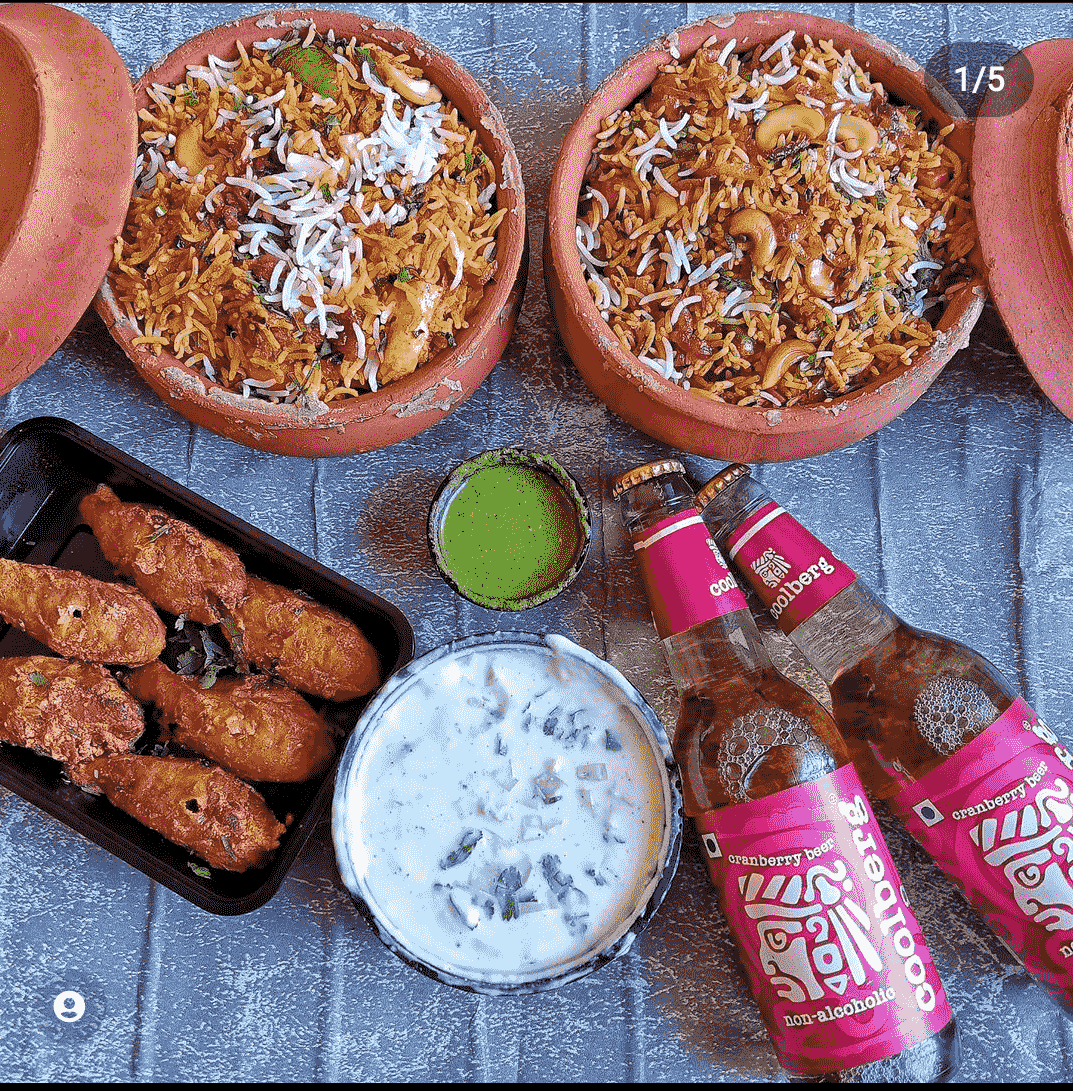 Mehfil Biryani – The Behrouz and other digital biryanis are a bit tiring huh? Worry not, we have a fresh Biryani brand to fulfil your cravings.
FAQ about the app
What is the latest Bigspoon referral code?
Answer: The latest referral code of Big spoon is vdktgoz8nf 
2. How much discount can I get with the referral coupon?
Answer: You can get an instant 50% discount on your first order with the referral discount coupon.
3. Is it better to use the promo code FIRSTORDER instead of using the referral code?
Answer: The coupon FIRSTORDER will give you ₹120 on a minimum cart value of ₹250, but the referral code work without any minimum order value and so it is always better to use the code you got from your friend.
4. What is the latest promo code for new users?
Answer: New users can also use the promo code vdktgoz8nf without any minimum order value.
5. How to get free delivery and packaging on my orders at bigspoon?
Answers: You cannot get free delivery and packaging unless you chose to self-pick your orders than home delivery. Picking up orders can save you almost ₹50 on every order, and in case you have a kitchen close to your address, you can consider picking up. Maybe they will come up with new subscriptions plans, coupons or promo codes for free delivery and packaging
Coupons last updated – August 2022