Antivirus Softwares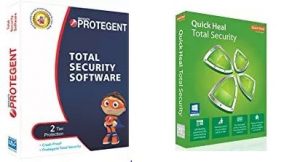 Amazon Offering Upto 70% off on Antivirus Softwares. If you are looking for a security solution get it now.
Good Buy: Upto 70% off on Antivirus Software
Protegent Internet/Total Security
A real Total Security suite extends beyond malware protection and provides comprehensive security against online threat to your computer. Concrete protection against malware, phishing attacks and spam, Protegent Total Security Solution encompasses features like antivirus, parental control, bi-directional firewall and spam filter to protect your system from cyber threats. This software offers a risk free browsing environment. Its proactive data recovery module provides 30% extra from any other Total Security software. Password Manager, File / Folder Lock, Personal Data Filter, Block Ads & Website, Two-way Firewall, Antispam, Hourly Update,One Click Removable Device Scan, Setting Protection, Entertainment Game Mode, Web Control, Active Virus Control, Antiphishing, Antivirus & Antispyware, Deleted File / Folder Recovery, Un-format Formatted Drive, Repair Corrupted/ Deleted Partition , Revive incase of FAT/NTFS/MFT Corruption.
Good Buy: