The latest slice invite code for the referral bonus is STARK195941.

Slice is India's latest unicorn startup after their recent funding of $220Mn, here is everything you should know before applying for a slice card.
Slice Invite Code 2022
The invitation code for the slice is STARK195941 and you can get a free credit card delivered to your house and earn a handsome signup bonus of ₹300 when you signup with the above invitation code.
| | |
| --- | --- |
| 📲 App name | Slice |
| 💸 Slice Invite Code | STARK195941 |
| 💰 Referral Earnings | ₹300 per refer |
| 📎 Country | India |
| 🗒 Expiry date | 31-12-2023 |
| KYC | Required |
| Platforms | Android, iOS |
Slice card charges and pricing
At the moment, there are no fees on applying for a slice card and you even get the card delivered to your home for free. The card does not have any hidden charges as well, it's all similar to a normal credit card and you have a billing cycle date that you can repay your dues from the previous month.
There will be a late fee as per the existing dues as similar to other credit cards and you will get notified before your due date. The fine will be on a daily basis depending on the scale of limit.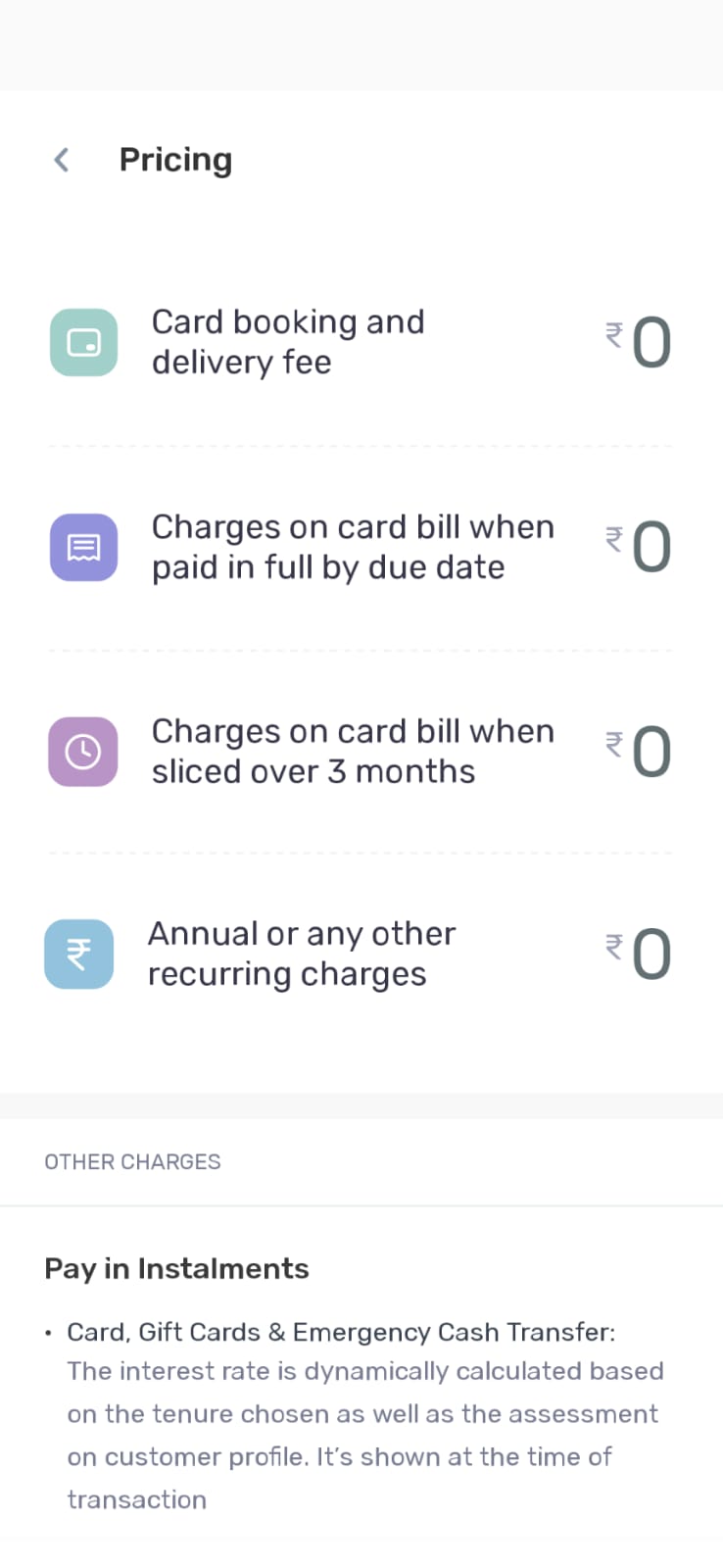 There is a cash withdrawal charge of Rs. 50, and 25 in case you transfer money from ATMs. Again, these charges are so common on using credit cards.
The card booking and delivery is free and you don't have to pay anything for your application. There are no hidden charges if you pay your bills on time before the due date.
There are no annual or recurring charges as well which makes everything transparent with users.
Slice offers and Cashbacks
They always say, a credit card is a way to be financially broke, but that isn't true. If you know well to use credit cards, you can save a lot of money on your spending.
Most popular apps and websites offer decent instant discounts and cashback while using slice cards on transactions. We recently transacted via slice on Swiggy and the experience was seamless. There was 60% instant off on the first order and many other booking and e-Commerce websites also have a good discount on using slice cards.
There could be more stores and websites offering good deals via slice card soon. You can activate the deals and offers from the Spark section inside your app. You can burn your slice monies to convert it to real cash at a flat 1% rate for now and is said to be upgraded to 2% very soon as per the information available on the Slice app.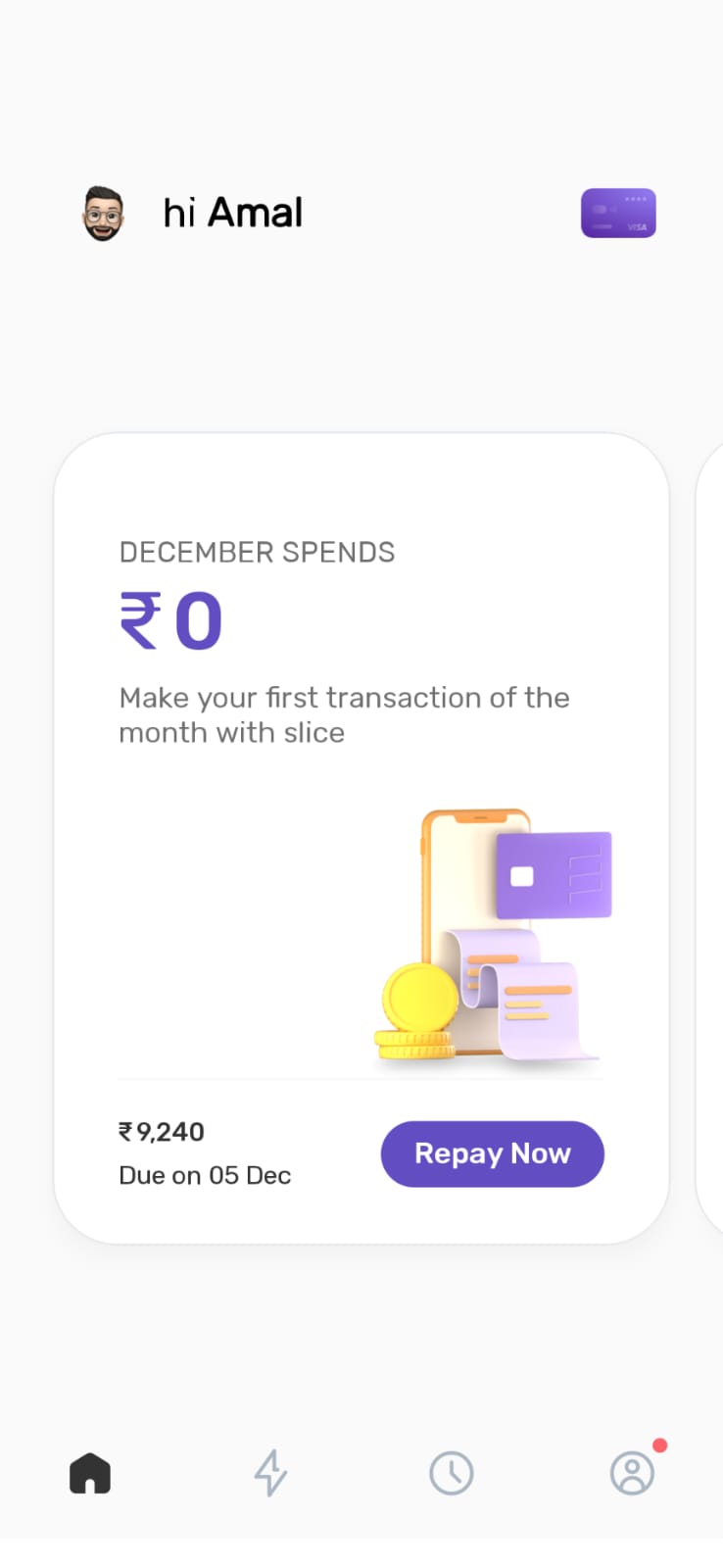 They also offer ₹300 cashback when you refer someone with a Slice invite code or slice invitation code and they successfully get approved for a slice card.
Advantages of using Slice card
The card is on the VISA network and is free for a lifetime without any charges.

Credit limits are high and depend on your credit scores.

No cost EMI options are available for many websites and apps.

Flat 2% reward points on all transactions and is added to your Slice monie section.

Contactless transactions by just tapping your slice card with a transaction limit of

₹500.

Fuel surcharge waiver of up to ₹200 per billing cycle on transactions less than ₹4000.
Eligibility criteria for card approval
Only Indian citizens are eligible for the slice and you can be a student as well to get your application approved. They are not too strict on employment status and can offer you a lower limit depending on your status. However, if you are self-employed or employed full-time, you have a higher chance of getting a higher credit limit. Also, applying our slice invite code can increase your chances of getting your application approved. The minimum age threshold is 18 and your minors are not welcome to slice.
Application process and invite bonus
The first step is to download the slice app from the play store or App store and get started by entering your phone number.

Verify your mobile number and make sure you enter your contact number that is linked with your PAN card, Aadhar card and others. financial circuits so they can fetch your credit score easily.

Now, the app will ask you for your name and employment status and on the next page, you can see your PAN card information as well.

The process of fetching your credit score is in progress in the background and you might be asked to confirm it now and enter your Aadhar card number.

Enter your address for the card delivery and complete the application process.

You may be asked for a slice invite code and that can increase your chances of approval on the application if you can apply the slice invitation code.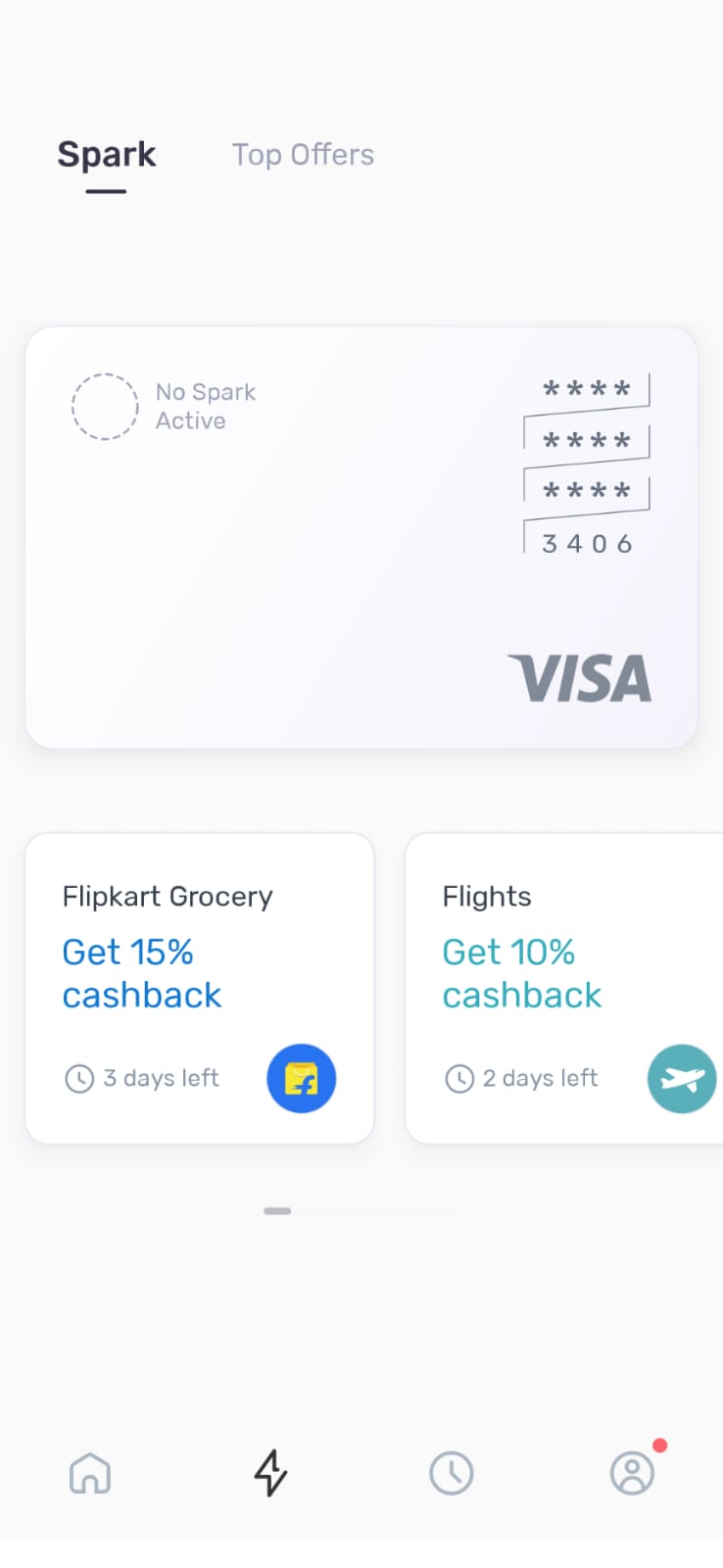 Business model and final conclusion
The business model is simple that they have partnerships with NBFC's and provide you with consumer durable loans with a credit line. It might be slightly different when you see it on your CIBIL score. Unlike the normal credit cards, you might see slice as a personal loan on your credit profile. They charge you a market standard late fee when you default your payments and that is the primary source of revenue for credit card companies.
Also when you pay on websites, they get a small cut since it is not a debit card and many websites charges you extra for paying with credit cards. Please be a responsible credit card user and do not go into debt by shopping for unnecessary products and subscriptions. If you are not employed, consider not spending much and always remember to pay back your debts on time. I know how difficult it is and I have been through that period and now I realised how to be a responsible credit card user and save money. Earn bonuses through referring the Slice app to eligible people and earn free credits on your slice invite code.
Disclaimer: We are not affiliated or related with Slice and is not responsible for any financial gain or loss that you make via Slice pay. You may use this banking service as per your discretion and this is the review of the product and service. We may get paid when you use our slice invite code to get your new slice card. The invitation code that we shared may benefit us upon anyone using it to complete their signup on the app.