Does your wireless headset looks you little geeky? Yes this one Motorola Sliver II Wireless Headset HZ770 will make you lil geeky, thanks to the sleek discreet design and customizable height.
Buy : Motorola Sliver II Wireless Headset HZ770
Now you can listen everything in crystal clear HD sound using the Motorola Silver II Wireless headset HZ770, You can talk about 5 hours with this headset and then you can charge this headset in a special power packed case for 9 hours.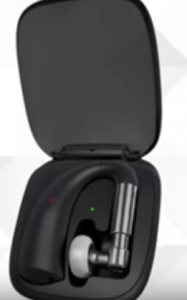 Hear better, look slicker is the tagline of this headset.
Specifications of Motorola Sliver II Wireless Headset HZ770
182mAH lithium-polymer battery

Chargeable case for extra power, discreet, custom fit for comfort, crystal clear and HD audio

Built-in microphone

Provides 5 hours of talk-time and 12 days on standby time, tack on up to nine extra hours of talk with the power packed case for calls that just won't quit

1 year warranty
Review of Motorola Sliver II Wireless Headset HZ770
This device comes with a handy case and this is the only way to charge the device, so beware if you lose this case then you can't charge this headset.Even though the device doesn't have a mouth piece, it works fine on receptance of audio.
HD Audio Quality
The very best feature of this headset is none other than the quality of the audio, Motorola succeeded in giving an endless music enjoyment through this Silver headsets.
My Moto Speak
With an android application on a moto device, now you can just speak out actually without just touching the device, so here this device comes handy. You can accept or deny calls by just commands. Unfortunately this application is not available for the apple users.
Noise Cancellation
If you are in too windy or noisy place, then this headset cancels all the noise and surrounding effects and gives the reciever a noise free experience.
Easy Pairing
This headset pairs with any device very easily and its just a second to connect.
Should you buy Motorola Sliver II Wireless Headset HZ770 ?
I say Yes, Rs 2,859 is just worth for this product and you are getting a pretty handy charging box along with this super cool headsets, and it is a worth product for this price range. The comfort that this headset gives you and the application which makes this headset more awesome. everything makes it good for this price.