Buy Kenstar Mixer Grinder KMA50W3S-DBB 500W Rs 1249
Post Views
= 49
Hey there! here is everything about Kenstar Mixer Grinder KMA50W3S-DBB
Kenstar is a mid range budget level mixer grinder brand and of course yes, Kenstar Mixer Grinder KMA50W3S-DBB  is worth and is a very good deal for just Rs 1,249 only,
Buy – • Kenstar Mixer Grinder KMA50W3S-DBB Rs. 1249
True Review of Kenstar Mixer Grinder KMA50W3S-DBB
First of all, if you check the review on flipkart for this mixer grinder then you can see there are 1100+ reviews for that product, and the highlighting reviews may be negetive ones, still if you really need the unbiased review of Kenstar mixer grinder then here it is,
Specifications of Kenstar Mixer Grinder KMA50W3S-DBB
 Liquidizing Jar Capacity –
1.25 L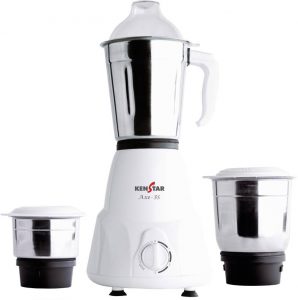 Chutney Jar Capacity – 0.4 L
 Weight – 2.3 kg
Power Required – 230, 50 Hz
Material – Stainless Steel
Warranty Summary – 1 year warranty
By looks Kenstar mixer grinders are very cute and its adorable in your kitchen, it doesn't need big space to keep and its shape is elegent. The quality of the outer plastic is decent and for small home needs, this is the perfect mixer grinder of 500w.
And about the internal quality of the product, the motor on this kenstar mixer grinder is performing well, and comes with a warranty of 7 years,
And for this cheap price of Rs 1,249 you are getting 3 jars along with this Mixer grinder,  
This is a very good product for this price range of Mixer grinders under 1500 Rs, The quality of 
Kenstar Mixer Grinder KMA50W3S-DBB
 is super good for the price you are paying. Flipkart is offering very nice service on very decent and secure packaging along with superfast delivery too.
The sound for the motor of this mixer grinder is little more than other mixer grinders and its still adjustable, if you are buying a mixer grinder for your small home needs only, then I will recommend you to buy this 
Kenstar Mixer Grinder KMA50W3S-DBB