Although the MacBook Air is a top-of-the-line piece of technological equipment for any paying customer, there are a few setbacks that may deter someone from buying one. For instance, MaciOS can't run the same range of software that Windows can, and the price tag is always much heftier for a MacBook than most other laptops. If you're looking for something similar to a MacBook Air, but can't get one, here are the Top 10 MacBook Air alternatives for Windows users that you can find near you. 
Dell XPS 13 OLED
The Dell XPS 13 is perhaps the closest you could reasonably get to owning a MacBook Air without actually owning a MacBook Air. Sized somewhere between the MacBook Air and the MacBook Pro, this laptop actually offers the same system memory and storage as the MacBook Pro. In addition, it is highly connective, making it easier to add accessories to it. Aside from the MacBook comparisons, it's a top-tier laptop that's bound to impress you with its utility and design.
HP Spectre x360 13.5
The HP Spectre x360 13.5 is an interesting alternative to the MacBook Air, offering some functions the Air is far from delivering at this moment. This HP laptop also functions as a tablet, offering the flexibility that the Apple laptop is missing and opening up more opportunities for creative types who are averse to buying a separate tablet for digital art. This is further supported by the HP Spectre x360's 3000 x 2000 OLED display, which promises vivid colours and precise details.
HP Pavilion Plus 14
While this HP product offering lacks the flexibility of the previous option, the HP Pavilion Plus 14 is a suitable alternative for those who only really want a good laptop rather than a 2-in-1 convertible — and it comes with a smaller price tag, too. The all-aluminium chassis looks great and sleek, while the 45-watt 12th-gen Intel Core i7-12700H and 16:10 2.8K (2880 x 1800) OLED display running at 90Hz make it an incredibly powerful laptop for something so affordable.
Razer Book 13 (2021)
Known most often for their gaming laptops, the Razer Book 13 is Razer's first big attempt at challenging other productivity-focused devices, like the MacBook Air. Thin and light like the MacBook Air, the Razer Book 13 actually outperforms its Apple competitor in terms of connectivity, boasting two Thunderbolt 4 ports, a USB-A port, an HDMI slot, a headphone jack, and a microSD card reader. If you're looking for something portable with many ports, the Razer Book 13 might be for you.
HP Elite Dragonfly G3
While the other options on this list so far have been focused on general productivity, the HP Elite Dragonfly G3 is uniquely suited to the needs of someone in business. Enterprise-level security and management are built-in features of this laptop, with the 13.5-inch 3:2 WUXGA+ (1920 x 1280) Sure View privacy screen option blocking snoopy onlookers from being privy to sensitive information. Plus, the 5MP webcam makes it a great option for frequent videoconferencing.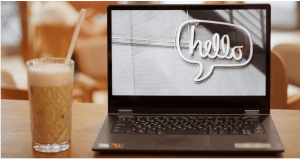 Source: Pexels/ Olena Bohovyk
Lenovo ThinkPad X1 Nano
If what draws you to the MacBook Air is its portability in terms of size and weight, the Lenovo ThinkPad X1 Nano might just be the laptop for you. This laptop is very easy to carry around and is actually lighter than the MacBook Air (1.99 pounds versus 2.8 pounds, respectively). Plus, the X1 keyboard is a true feat of engineering with its depth and feel, making this laptop particularly ideal for writers, editors, journalists, bloggers, and anyone else who might type more than the average person.
HP Envy 16
The HP Envy 16 is another more affordable alternative that can quite easily go toe-to-toe with the likes of Dell and Apple's flagship products. While the base product itself is plenty powerful, purchasers can add on a GeForce RTX 3060 graphics card and a fast 45-watt Intel Core i7-12700H CPU for an additional fee that expands its utility, particularly for creative types. Still, however, the price comes nowhere close to the Dell XPS 15 or the MacBook Pro 16, making it a good money-saving option.
LG Gram 16
Coming in at a record-setting 2.62 pounds, the LG Gram 16 is the lightest 16-inch notebook computer in the world – positioning it well against the MacBook Air's famed lightness and ease of transport. While the 16-inch display brings it closer to the territory of the MacBook Pro, the laptop combines the best aspects of both Apple products and still retains a good battery life to boot. Its Bluetooth capabilities also allow it to link up to any Bluetooth speaker, as well.
Microsoft Surface Laptop 3
As Microsoft was the original developer of the Windows software, it stands to reason that their laptop product can stand its own as a Windows-based counterpart to the macOS-based MacBook Air. It boasts similar portability to the MacBook Air and has a great trackpad and keyboard, while offering a touch screen feature not available for the MacBook Air. While it might get a little pricier than other laptops on this list, its superior processing capabilities and utilities are sure to make it worthwhile.
Asus Chromebook Flip C436
Capping off our list is the Asus Chromebook Flip C436, a state-of-the-art Chromebook that might sell for a little more than most of its peers on this list, yet is worth every penny. Like the HP Spectre x360, the Asus Chromebook Flip C436 is a convertible 2-in-1 laptop and tablet, with a look and feel of a high-end laptop like the Dell XPS 13 or the MacBook Air. Additionally, it was developed with Intel as part of the Project Athena program, which means it's faster than your average laptop.
While this list covers 10 different laptops that can serve as worthy replacements for those who want, but can't have, a MacBook Air, ultimately, what matters most is selecting the laptop that fits best for you and your needs. Whether you need something business-oriented, like the HP Elite Dragonfly G3, or you desire something for your creative soul, like the HP Spectre x360 13.5, there's a laptop out there for you. Who knows – it might fit you better than a MacBook Air ever could.