Is Qureka a SCAM App? Can I trust Qureka?
Qureka is a quiz game app that was launched in 2017 and this review contains my experience in 2017 and yesterday on July 30th, I re-installed this app to see how is the new experience which you can read below.
NB: Are you struggling to earn some money working from home? You can start working with zero investment from home, I will tell you 5 reliable work from home job opportunities on Search Engine evaluation, Maps quality analyst, Social media evaluator, Ads quality rating, Photo quality evaluation which are trusted and is reliable. Check out rater jobs and apply for the relevant jobs.
What is Qureka?
Qureka is a realtime live quiz show app released a few days back, and many people have doubts if we can trust Qureka or not. No one is sure if they really pay the winnings. I've earned Rs 613 as winnings as of today and their payment policy is like you have to play at least 10 games to redeem the amount. I've paid 7 games until now. I'll complete this review if they pay me after 3 more games.
Why Qureka was removed from Playstore?
Most people have a doubt on Qureka because, at some point in time, this application was not available at the play store. And after a few hours, they fixed the issue and the app was live on Playstore again. The application has around 10k+ downloads and for every game also close to 10 thousand people are playing every game.
My earnings proof from Qureka in 2017 ( Not the case in 2020).
This is the proof of my earnings from Qureka in just 3 days, I earned 613 Rs and all of this amount was from Referral only. I haven't won any game. My referrals had played well and so I earned 613 Rs from their winnings as a bonus and also a 220 Rs as a referral bonus when all of them played their first game. But again, this was the case in 2017 and a lot of things have changed in 2020 which you can read below.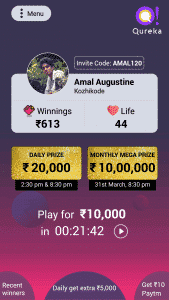 As per their terms and conditions 2017, I will be able to transfer the amount to my Paytm wallet today after the 8.30 PM's game. I hope they won't make new terms and conditions after the 10th game. Anyway, I'll keep you posted here.
Review of Qureka app 2020
Edit: I reinstalled Qureka yesterday and I found it is a very unreliable and noisy app now. So much of ads filled on every page including the signup and sign in page. You will have poor experience using Qureka and the app is very poorly designed with a low-quality UI and UX. Also, I had Rs 135 which was ready for withdrawal and when I tried to withdraw the money, it was telling me that you can only withdraw Rs 10 a day. Seriously? Okay, then let's withdraw Rs 10, now a creepy policy that you should play at least 30 games to withdraw ten rupees. What non-sense is this app
My Old Review on 2017 about Qureka ( This has changed a lot)
The game show is better than Mob Show, LOCO, Trivia HQ, etc… I found it more interesting because they allow only one life to be used in a single game even if you have loads of lives with you. And they have the best referral program because you win when your friend wins. So it's a win-win situation for both.
Join Qureka and start Earning
You can join Qureka today and start earning from the quiz shows. If you're cool you can start with the invite code AMAL120