Join CRED from the invite link below to get ₹1000 Cashback after your first Credit Card bill payment. Get a scratch card with assured cashback and rewards on every Credit card bill payments. 
Download CRED and get ₹1000 Cashback


CRED is trusted by more than 10 Million users with 4.6 stars on the PlayStore and App Store.  Download from the below link to get started.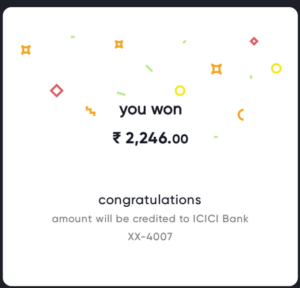 Benefits of CRED over other Credit card bill payment Apps
Kunal Shah – the founder of Freecharge which was acquired by Snapdeal in 2015 for $400 million launched CRED back in 2017 with a new bet in the world of credit cards. About his new venture CRED, Kunal Shah says it is "a platform to celebrate and reward the most creditworthy people of India".


CRED is already downloaded by 7 Million + users and has 4.6 star rating which is more than the downloads and ratings of GooglePay. 
What is CRED?
CRED is an app that allows you to earn "CRED coins" for paying your credit card bills. These points can then be redeemed for various premium lifestyle products & services.
Apart from this primary benefit, it also has options to track your expenses, notify due dates, etc.
CRED aims to reward the most creditworthy (Credit score > 750) people of India thereby creating a community of trustworthy customers. CRED pulls your Experian/Crif score at the moment, while CIBIL score may show up in future.
How it works?
It's very simple and the entire process hardly takes less than a minute.
Install the app – IOS / Android (open the link on mobile)
Signup with your mobile number & verify with OTP
Boom!! All your cards now gets displayed. CRED has done the integration with Credit Bureaus like Experian to make this is possible.
Now you have to verify your card to add them to the app by filling the masked numbers of the card.
CRED verifies your card instantly and that's it.
You shall now pay your bills and get reward points equal to the bill amount paid.
In the backend, while you're adding a new card, CRED verifies your credit card by depositing Rs.1 through IMPS/UPI. This reflects instantly on some cards while other cards (like AMEX) take upto ~1 working day.
Is CRED App Safe?
CRED is completely safe app for paying Credit card bills and you can see the ratings on play store as well.