Celebrate this New Year in Goa,75% of Hotels in Goa are already booked for this New Year.
Post Views
= 652
Planned where to Chill New Year this year?  If not plan things ASAP because 75% of the Good Hotels in Goa are sold out already.Most People would have planned to celebrate New Year in Goa. I will help you where and how to book cheap hotels and flights to enjoy this New Year.
See the flight calender to Goa from Kochi on the last week of this Year, Airlines has well utilised the opportunity to squeeze the customers, because most people are chosing to celebrate New Year in Goa. Flight fares are almost double of the normal fare on the season time due to large demand and they are pretty sure that the seats will be still filled in this fare.
Best Offers on Booking Flight tickets in November
Flight Calender for Kochi – Goa on December 2016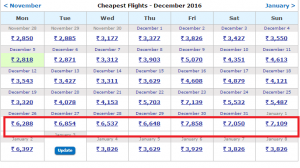 Goibibo
As of now the best way to save on these flight tickets are using Goibibo so that you can pay Rs 500 from Gocash+ wallet and also you can use 2% of gocash on top of that. So if the ticket rate is Rs 2000 then you can pay Rs 540 from your Gocash Wallet. Making gocash in wallet is not a big task, and even people are selling gocash wallets for Rs 70-100, if you need one comment below the post.
Makemytrip
If you have Axis Bank,HDFC,citi bank Debit or Credit cards then you can save well on flight tickets from Makemytrip. On all Wednesdays Makemytrip has Rs 1200 OFF or Cashback on these bank's cards. Wait for Wednesday and book tickets from MMT.
If you don't have these bank cards then the best discount you can get is 5%of the ticket rate you can pay from MMT wallet, and also use some wallets like Mobikwik,Paytm,Payumoney and get some cashbacks.
Cleartrip
If you need some cashbacks on your flight booking then you can use cleartrip, you can redeem this cashback with some hotel booking or activity booking on Cleartrip itself. There are many coupons to use on Cleartrip which can be seen on the offers tab in the Cleartrip app.
SpiceJet
SpiceJet has a good offer on ticket booking through their own portal, you can save upto Rs 800 from SpiceJet.
First step is you should take SpiceClub membership paying Rs 599 and then you will get 2 vouchers of SpiceJet worth Rs 599 each which you can use instantly to get discount on your flight booking.
Also there are some other benefits in this membership like 2* 100 Rs add on vouchers, tickets for discounted rate on Wedding anniversary for couples..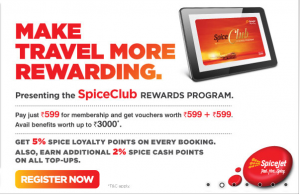 Also you can save extra Rs 200 convenience charge on your booking if you pay from Spiceclub wallet after doing a topup in your wallet, also you will get extra 2% when you topup your wallet.
If you are using Cleartrip,goibibo,MMT you have to pay extra Rs 200-225 as Convenience charge which you can save on SpiceJet when paying from your topped up wallet.
So if your ticket in the range 1000-2500 Rs,go for Goibibo or SpiceJet
If the ticket rate is about Rs 5,000 then go for Makemytrip and save on bank offers.
Or if you need Cashbacks to book Activities,hotels then go for Cleartrip
Best Offers on Booking Hotels in November
Hotels charges are also inflated much in the month of December due to high demand, so make sure you book hotels earlier and save more. If you are planning your New Year in Goa then book your hotels immediately as most of the good resorts and hotels in Goa are already sold out and ready for New Year in Goa.
You can see this comparison of hotel rate in July and December.
The same hotel Meraden la Oasis  we booked back on July for Rs 526 Rs for 2 people is now Rs 12,500 prior to discounts. Its inflated more than 15 times.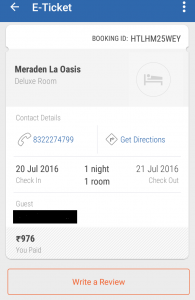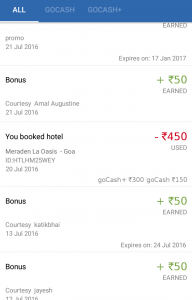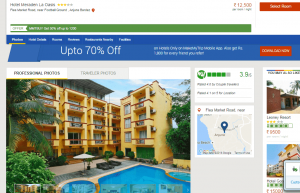 Before booking hotels, don't forget to check all the apps like Makemytrip,Goibibo,Cleartrip,OYO Rooms,Treebo Hotels because all have different rates and different offers unlike flight booking.
All the wallet offers mentioned above can also be applied for Hotel bookings also, so you can save Rs 500 + 25% on top of coupon discount using Goibibo.
Makemytrip has good coupon discount and also you can save using MMT Wallet and on top of that if you use CashKaro and you can get Rs 540 as cashback after the booking .
Dont forget to explore wallet offers with Payumoney,Paytm,Mobikwik on payment.
If you have booked your flight ticket from Cleartrip then you can redeem the cashback you recieved while booking to book Hotel on Cleartrip.
So think wisely, check all apps and site and book advance to save money. Never be Late to the Party, make sure to reserve ASAP. Enjoy the New Year in Goa.
Still have any doubt? Give comments below.